2016
13. 1. – 27. 1. "Visuelle Poesie, Bewegte Sprache"
Aussstellungsbeteiligung, Galerie Wechselstrom, Wien
---
21. 2.
18.30 h, Einlass ab 18.00 h
Albert Schweitzer Haus
Schwarzspanierstraße 13
1090 Wien
Tanz: Compagnie con moto / A.D.A.M.
Musik: Die Maschine lebt (Alfons Bauernfeind / Georg Schmelzer-Ziringer)
Texte: Sophie Reyer / Thomas Havlik
Master of Ceremony: Franz Sramek
Konzeption: Christine Schatz / Vera Rebl / Frans Tormer
---
27.2.
je cherche la poésie en dehors du livre mit Thomas Havlik und Christoph Bruckner
[sound- & visual poetry; werkstatt und werkschau]
Edition ZZOO at Galerie Blumentopf
15h-18h Soundpoetrylabor und -werkstatt mit Thomas Havlik
19h Visual Poetry-Werkschau von Christoph Bruckner
20h Soundpoetry und Lyrik von Thomas Havlik
Galerie Blumentopf, Martinstrasse 74, 1180 Wien
---
11. 3.
Miniaturen III 2016 /
Vernissage 19-22h, Lyrik von Thomas Havlik ca. 20h
INTAKT Galerie, WUK, 1090 Wien, Währinger Straße 59, Stiege III, 2. Stock
mit freundlicher Unterstützung der GAV
---
16. 3.
Cabaret Voltaire, Zürich, Schweiz
"Syllablesshooter", CD-Präsentation und Performance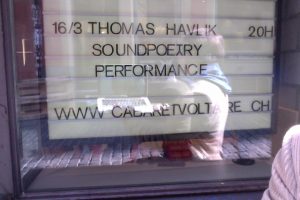 ---
31. 3.
Kakania Symposium & Kakania V
Thomas Havlik on Walter Serner
Austrian Cultural Forum London
28 Rutland Gate
London SW7 1PQ
Kakania V
7–9pm
The Kakania project returns to the Austrian Cultural Forum for a night of brand new performances, each from a contemporary artist or writer responding to a figure of Habsburg Era Vienna. The great, groundbreaking personas of 100 years past are made new by some of the most dynamic and innovative performers and thinkers of our day, without nostalgia, but with faithful invention and intensity. More about Kakania on www.kakania.co.uk
Programme:
Declan Ryan on Egon Schiele
Steve Beresford on Arnold Schoenberg
SJ Fowler on Robert Musil
Daniela Cascella on Hugo von Hofmannstahl
Harry Man on Erwin Schrödinger
Thomas Havlik on Walter Serner
www.theenemiesproject.com/kakania2016
Kakania Symposium
2–5pm
Preceding the evening's performances there will be a symposium on Habsburg Vienna, through the kaleidoscope of Kakania's inventive approach, led and curated by Dr. Diane Silverthorne, a leading voice in Habsburg Viennese studies. The Symposium will feature informal and academic talks about the era, interspersed with poetry and text art readings from poets and writers involved in the first year of the Kakania project, who will also give context to their process. The Symposium will also see a screening of the acclaimed film Altenberg: The Little Pocket Mirror.
Programme:
2pm
– A talk by Dr. Diane Silverthorne on expressionist landscapes in music and art.
– A talk by Dr. Leslie Topp, on madness, architecture and Vienna.
3pm
– A talk by Jamie Ruers on Cabaret Fledermaus
– A talk and reading by Eley Williams on Broncia Koller-Pinel
– A talk and reading by Vicky Sparrow on Margarethe Wittgenstein
– A talk by Stephen Emmerson on his multi-part performance art response on Rainer Maria Rilke.
– A talk by Marcus Slease, adjunct assistant professor in English at Richmond, The American International University in London, on writing a new poetry commission on Max Kurzweil.
– A screening of Joshua Alexander's experimental film on Paul Wittgenstein, commissioned for Kakania
4pm
– A screening of ALTENBERG: The Little Pocket Mirror. A documentary by David Bickerstaff and Gemma Blackshaw | 54 min
About ALTENBERG: The Little Pocket Mirror
The life and work of the Austrian writer Peter Altenberg is shrouded in controversy. From bouts of mental illness to obsessive relationships with prepubescent girls, Altenberg's willingness to write about his experiences of depression and passion ensured a level of notoriety that exists to this day. Celebrated as an eccentric during his lifetime, his friends and contemporaries included Sigmund Freud, Gustav Klimt and Adolf Loos.
Altenberg described himself as 'a little pocket mirror' and had a unique ability to see the world of Vienna circa 1900 in miniature. Art Historian Gemma Blackshaw retraces his footsteps through Vienna's cafés and asylums, cheap hotels and holiday resorts to create an illuminating portrait of this deeply troubled man, so central to the culture of this time and place. Accused of paedophilia by some, how can academics and institutions deal with his collection of images and texts? What would they have to leave out, and what does this say about our own, similarly anxious times?
Presented and written by Gemma Blackshaw. Filmed, directed and edited by David Bickerstaff. Funded by Plymouth University.
Available on the day will be the two publications emerging from Kakania – The Kakania Anthology and Oberwilding: on the life of Oskar Kokoschka by SJ Fowler & Colin Herd.
www.theenemiesproject.com/kakaniasymposium
Venue:
Austrian Cultural Forum London
28 Rutland Gate
London SW7 1PQ
http://www.acflondon.org/literature-and-books/kakania-v/
http://www.theenemiesproject.com/kakania-events
---
April
Artist in Residence, Crete, Heraklion, Greece
http://maakali.org/ResidenceSEA/welcome-thomas-havlik/
22. 4.
KRPF – Syllable Space Flood
"Krpff: Syllable Space Flooding" is a sound poetry performance using speeches of politicians and recordings of demonstrations to create an expressive field of interpretation, flooding the space by using the phonetic aspects of speech and sounds instead of semantics and syntactics.
Videopoetry extended
video, speechsounds, asemantic signs: thomas havlik
used voices: yanis varoufakis, angela merkel, obama, putin
http://maakali.org/ResidenceSEA/krpff-sillable-space-flooding/
---
10. 5.
Freiheit des Wortes – Was kann die Sprache?
Mit Thomas Havlik, Helmhart, Michaela Hinterleitner, Magdalena Knapp-Menzel, Margret Kreidl, Martin Kubaczek, Hilde Langthaler, Birgit Schwaner, Günter Vallaster, Ursula Wiegel
Organisation und Moderation: Ilse Kilic
Eine Veranstaltung der Grazer Autorinnen Autorenversammlung
Literaturhaus Wien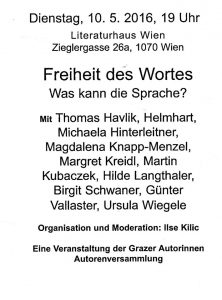 ---
17. 5.
Tanz: Compagnie con moto / A.D.A.M.
Musik: Mathias Koch / Michael Bruckner
Texte: Magdalena Hahnkamper / Thomas Havlik
Masters of Ceremony: Cornelia Scheuer / Franz Sramek
Konzeption: Christine Schatz / Vera Rosner / Frans Tormer
19.30 h, Einlass ab 19.00 h
Albert Schweitzer Haus, Schwarzspanierstraße 13, 1090 Wien
---
11. 6.
SoundpoetryPerformance at "Lines of Flight IV"
G7, Grundsteingasse 5, 1160 Wien
---
1. 9. und  2. 9.
"Die Wörter! Die Wörter!"
19:30 Interdisziplinäre Lesung/Konzert: venerasinn/Verena Duerr
21:00 Syllablesshooter, 30 Milliarden Silben / CD-Präsentation, Soundpoetry / Lyrik-Performance Thomas Havlik
Ort: kultur.portal scheibbs, Hauptstraße 4
davor ab 14h Soundpoetry-Workshop "Techniken experimenteller Literatur" ca. 3h  von Thomas Havlik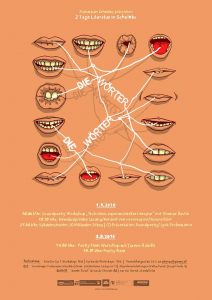 ---
13. 9. Ausstellungsbeteiligung
"Miragens" is an exhibitions of visual poetry, curated by Tchello d'Barros and taken place in Brazil, which brings together 152 works by authors from 44 countries, presenting his poetic creations free approaches to Water, central theme of the exhibition.
ÁUSTRIA: Liesl Ujvary – Günter Vallaster – Thomas Havlik |
Service:
Place: Casa Das Artes. Bento Gonçalves city (Rio Grande do Sul state) Brazil.
Visitation: 14 at 30 september 2016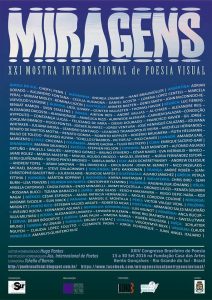 ---
16. 9.
Soundpoetry/Lyrik-Performance und Kurzfilmscreening
"Ottak! Ottak!" 3. bildende literatur biennale 2016
Projektraum im WUK
Währingerstrasse 58, 1090 Wien
https://www.facebook.com/pg/Edition-ch-583087415150799/photos/?tab=album&album_id=989371001189103
---
20. 10.
Soundpoetry Intervention
"Austrian Innovation Forum 2016"
Tech Gate Vienna
OXI_Soundpoetry Intervention_Austrian Innovation Forum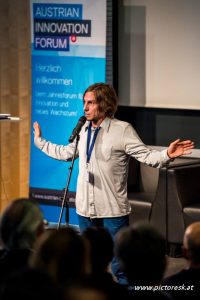 ---
28. 10.
ADA , Wattgasse 16, 1160 Wien
Soundpoetry/Lyrik und Premiere von
"ZsungeZsange/Havlik & Kubiak"
und: FLMNT (Mimu Merz, Lukas Lauermann)
http://artisticdynamicassociation.eu/2016/10/27/flmnt-havlik-ada-barmusik/
---
12. 11.
soundpoetry performances und release of the 5th issue of the online sound poetry magazine dedicated to sound poetry, poésie sonore, lautpoesie, noise poetry, sound-text composition, auditive poesie, audio poetry etc.
curated by Thomas Havlik Jörg Piringer Jörg Zemmler
www.huellkurven.net
live:
Martin Bakero & Elisa Matilde (Paris)
Dirk Huelstrunk (Frankfurt)
Elffriede.Aufzeichnensysteme (Wien)
Günter Vallaster (Wien)
Moderation: Thomas Havlik
Musik
HUT, Sechshauserstrasse 28, 1150, 20h
supported by: GAV – Grazer AutorInnenversammlung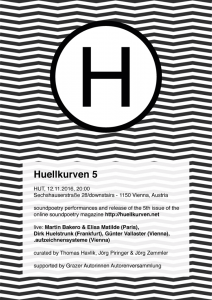 ---
16. 11.
ADAD – von hinten wie von vorne
eine neo-retro-anti-pro-dadaistische merz-soiree
mit:
elffriede.aufzeichnensysteme
jörg piringer
max höfler
onophon
thomas havlik
sabine maier
mit unterstützung der grazer autorinnen autorenversammlung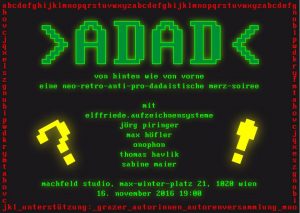 ---
10. 12. 
im HUT – Sechshauserstrasse 18, 1150 Wien
Konzerte von:
Havlik/Kubiak – Jörg Zemmler – Nikolaus Feinig/Kevin Fairbairn
---
11. 12.
Pseudoscienca, Artmagazin Surprise Edition
Jan Arnold Gallery, Museumsquartier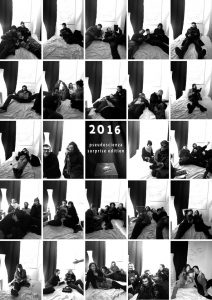 ---
22. 12.
"4th Night of Avanteguard Pop"
Fluc, Wien
Musikprojekte und Bands zeigen den experimentellen Charakter von POP! Der Schwerpunkt der 4. Veranstaltung dieser Serie ist "Literatur".
Konzerte:
Havlik/Kubiak
Unkomfortabel
Laster Kanaster
DJs
http://www.fluc.at/programm/2016/12/22_4th-Night-of-Avantgarde-Pop.html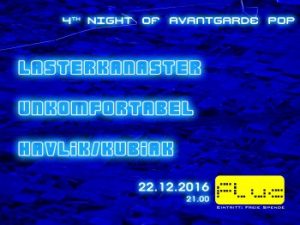 ---